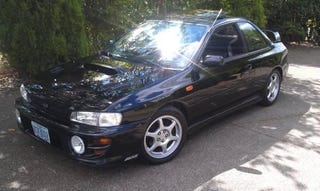 Around 4:30am on April 7th in the Magnolia area of Seattle, WA , someone stole my brother's 2001 Black Diamond Pearl Impreza 2.5RS. Sean bought the car in September of last year from a father and son who were the original owners of the car. The car was parked on the 3500 block of 27th Place West.
The Scoobie was nearly flawless. Some of the modifications that made it unique:
-135,000 Miles
-5 Speed Manual
-2 door coupe
-Black Diamond Pearl (garaged for its whole life)
-Toyo Proxes P4 Plus
-Cobb Cams tuned for mid range torque
-OBX Equal Length Headers (Better power than with the unequal)
-Single Hi flow cat and 2 1/4'' pipe to Stromung Twin Tip Exhaust
-Kartboy Short Shifter and Bushings
-Exedy stage 2 Clutch and Exedy Light Weight Fly Wheel
-Bilstein Struts lowered 1 inch, from the rally spec B Prodrive package
-Syms Racing Strut bars, front and back
-JDM spec Sti Sway Bars
-Hella fog lights with Hella clear covers
-Sti Racing Stainless Steel Pedals
-JDM Sti clear corners
-PRM Jet Cold Air Intake
The car is titled in the state of Washington, but it was not registered and does not have tags. He filed a police report, but I'm not so sure they consider this any kind of priority.
On the left is Sean's Impreza, on the right, a friend of ours. I'm hoping Team Jalop can help him get his baby back!
Update: The car was in his carport as of 4:30am PST. He went through the security video but it was too grainy to discern anything valuable.
Update2: My brother watched the video again and noticed at 4:26am, a red Ducatti 1100r parked in a space on the lot. The bike has temp tags that expired on 2-13. 4 minutes later, his car was stolen. The Bike is not registered to the space. In the video, the guy stopped the Subaru right where the bike is, ran out towards the bike, and then got back in the car. The bike has a drywall claw hammer zip tied to the rear right frame and a dry wall clamp (similar to a jump start cable clamp). Cops are calling the guy that owns the parking space just to make sure. Will try to get some pics!
Update3: Bike Pics! It was confirmed stolen. Police are fingerprinting the bike now...
Update4: If you own a similar Subaru, consider locking it up more securely. The cops told Sean that there have been a string of thefts lately. The cars are used to commit other crimes and then dumped somewhere else. Here are some recently reported stolen:
http://www.rs25.com/forums/f124/t2…
http://www.rs25.com/forums/f124/t1…
http://forums.nasioc.com/forums/showthr…
http://seattle.craigslist.org/see/laf/438035…
Post for this Scoobie:
http://forums.nasioc.com/forums/showthr…
These guys are not suspected:
Update5: From my brother's facebook post: "So apparently I've provided the cops with a very solid lead in the case with the Ducati and the TON of fingerprints the guy left all over it. They have been parked up at my apartment complex all day and I overheard somebody mention a warrant. They just got a copy of the video from the leasing office as well. I think SPD might owe me a thank you letter if the catch this theft ring. The first cop basically blew it off as "nothing we can do"... Glad I'm persistent. Now if they could just find the damn thing...."
UPDATE6: The car has been found! It is currently in impound. My brother is going to check it out tomorrow. I'll get some pics from him.
UPDATE7: The car is back in his possession. Here are the pics:
Lost a fog light.
And the rear speakers.
and the headrests (!!!??!)
And the new DVD/Navigation.
Looks like they were trying to get the wiring (hey copper! and at that gauge it wasn't a cheap wiring kit).
They smoked in the car!!!
And the front speakers...thanks for leaving the brackets! Here is what he said on his facebook post:
I got her back today.... She's in rough shape. A few new dents, rear suspension is bouncy, some white paint scuffs, missing Hella fog light, cut HID harness, missing headrests, navigation stolen, rear speakers stolen, oily residue all over the interior, amp wiring ripped up, but not ripped out, steering wheel all kinds of scraped up, ignition is kind of jacked up as well.... More photos and details to come. The only good news? The stuffed my VW 20th Anniv. front lip in the trunk! :)
It was suggested that the thieves got spooked and stopped stripping the car. It was abandoned about 15 miles out of the city in an area called Lake City.
UPDATE 8: They caught the theif thanks to my brother's help! He has been wanted for some time now by the Washington State Patrol in connection to six other thefts!
UPDATE 9: Monday, June 2, 2014 - My brother went home for lunch today and guess what? The car was stolen again!! He had installed a GPS locator in the car when he got it back last time, but had to return it last week because it was malfunctioning. Ugh. People suck!